About Dollar Car Rental UAE
AAA Group Auto Sector
A globally established brand – over 640 worldwide locations across 53 countries, and a fleet size of approximately 200,000 vehicles
In the UAE, Dollar is a franchised operation owned by the prestigious A.A. Al Moosa Enterprises, under the license of Zabeel Rent a Car LLC, since 2004. Today, with locations across the UAE, Dollar Car Rental is one of the region's favorite and leading car rental agency, with multiple awards & recognitions to its name. Dollar Car Rental UAE has neighborhood and airport car rental locations in Dubai, Abu Dhabi, Sharjah, & Al Ain. Every day, hundreds of tourists & residents in the UAE choose Dollar Car Rental for their mobility needs. Dollar Car Rental UAE also takes pride in being associated with leading brands in the UAE like Pepsi, Mai Dubai, Pran Foods, NFPC, Aramex, Carrefour, etc. as their total transportation solutions partner, by helping them achieve reduced fleet management costs, improved fleet compliance, customized vehicle-builds, and other business-specific goals. Our special rental car offers and low everyday rates assist you in keeping your travel plans budget-friendly. Dollar Car Rental has convenient national and worldwide car rental locations to serve you. In addition, our Dollar Hunt program offers 365 days of assured deals, seasonal benefits & surprise rewards – both online & offline!
TECHNOLOGY & CERTIFICATIONS
Super Brand UAE choice 2017
Dubai Service Excellence Scheme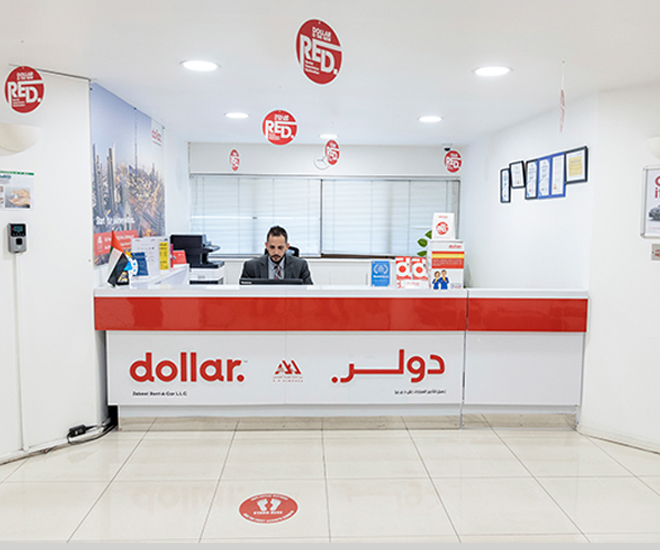 Business Highlights
Corporate Lease
Personal Lease
Short-term Rentals
Long-term Rentals
Business Solutions
Award Winning Experience
Seamless Online Bookings
365 Days of offers!
Dollar Prestige Luxury Fleet
24/7 Customers Service
25+ Locations in the UAE
Sign-up account to receive offers
Address
Dubai
Dollar Rent-a-Car (L.L.C.)- Head Office
Arenco Building, Zabeel Road
P.O. Box 2622, Dubai, U.A.E.