About Dollar Car Rental Oman
AAA Group Auto Sector
A globally established brand – over 640 worldwide locations across 53 countries, and a fleet size of approximately 200,000 vehicles
In Oman, Dollar is a franchised operation owned by the prestigious A.A.Al Moosa Enterprises, under the license of Corniche Cars LLC, since 2004. Dollar Car Rental has convenient national and worldwide car rental locations to serve you. Today, with over 6+ locations across Oman, Dollar Car Rental is one of the region's favorite and leading car rental agencies, with multiple awards & recognitions to its name, and has neighborhood and airport car rental locations in Muscat, Salalah & Sohar. Every day, hundreds of tourists & residents in Oman choose Dollar Car Rental for their mobility needs. Dollar Car Rental Oman also takes pride in being associated with leading brands in Oman as their total transportation solutions partner, by helping them achieve reduced fleet management costs, improved fleet compliance, customized vehicle builds, and other business-specific goals. the foundation of Dollar Car Rental is built on a philosophy of exceptional customer service. Our attention to customer experience and our high-quality fleet of rental vehicles helps make both leisure vacation travel and business travel easier for our customers. In addition, our Dollar Hunt program offers 365 days of assured deals, seasonal benefits & surprise rewards – both online & offline!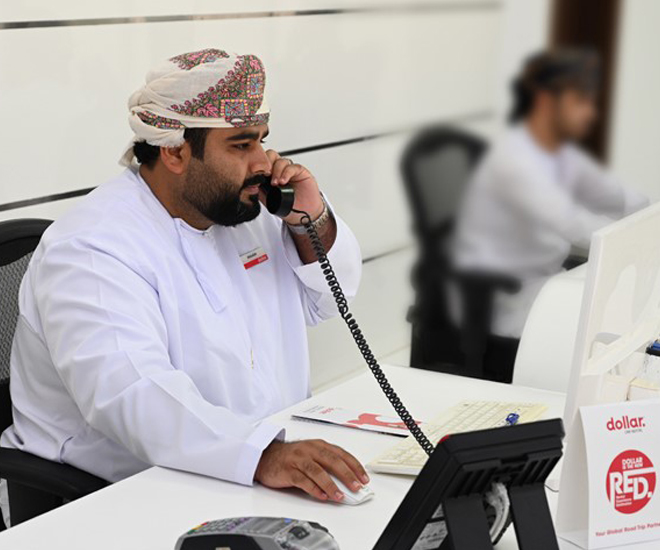 Business Highlights
Corporate Lease
Personal Lease
Short-term Rentals
Long-term Rentals
Award Winning Experience
Seamless Online Bookings
365 Days of offers!
24/7 Customers Service
5+ Locations in Oman
Sign-up account to receive offers
FAQ's
Address
Oman
Dollar Car Rental Oman
Corniche cars LLC
PO Box 1181 PC : 133
Ghala, Sultanate of Oman.