AA AL MOOSA ENTERPRISES ANNOUNCES THE REBRANDING OF A FIVE STAR HOTEL IN DUBAI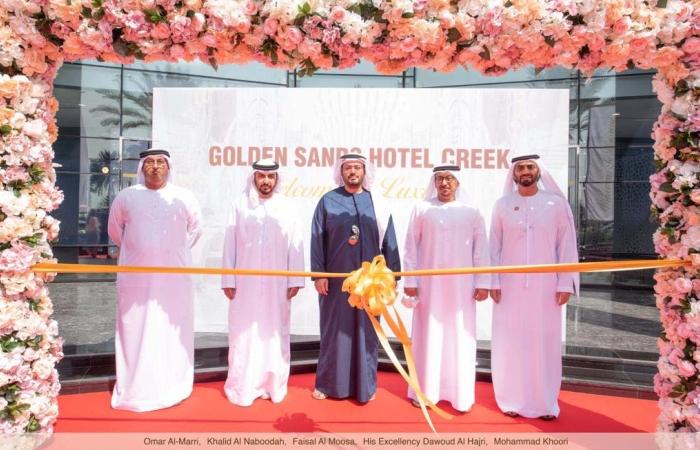 At WTM, it was announced that the Hilton Dubai Creek, a five-star hotel previously managed by Hilton Worldwide, will be renamed Golden Sands. The Dubai-based AA Al MOOSA Enterprises LLC, a dynamic and service-oriented conglomerate with a diverse range of commercial interests, has announced the rebranding of one of its five-star hotel properties at a key location in Dubai.
Previously managed by Hilton Worldwide under the name of Hilton Dubai Creek, the property's rebranding to Golden Sands Hotel Creek comes in line with AA Al MOOSA Enterprises new strategy to strengthen its local brand Golden Sands, which has been successfully present in the market for more than 30 years.
Officially opened on October 25, 2021, by His Excellency Dawoud Al Hajri, Director General, Dubai Municipality; Khalid Al Naboodah; Faisal Al Moosa, Director of Al Moosa Enterprises; and Mohammad Khoori, General Manager, Golden Sands Hotels and Hotel Apartments.
H.E. Dawoud Al Hajri expressed his admiration for the property and wished Golden Sands the best in its new venture as a local operator. "There is no doubt that the UAE hospitality industry is evolving, therefore, we must be flexible and adapt our strategies to meet the ever-growing market needs," says Moosa. "We maintain a productive and friendly ties with Hilton Worldwide, and are confident that Golden Sands management will achieve our aspirations for this property."
For his part, Mohammad Khoori noted, "We believe in this area as an essential tourism and business destination for Dubai, and we are delighted to be here to support the government's vision that is aiming to highlight the historic part of Dubai, by introducing a one-of-a-kind boutique five-star hotel managed by a true local Emirati brand." He says, "We are pleased to be selected to manage this fine property."
The portfolio of AA Al Moosa Enterprises includes hotels in the UAE and Oman that are managed in partnership with global chains, such as Hilton Worldwide, Marriott International, IHG, and Taj Hotels, as well as its local brand Golden Sands, which manages many hotel apartments and hotels in the UAE.